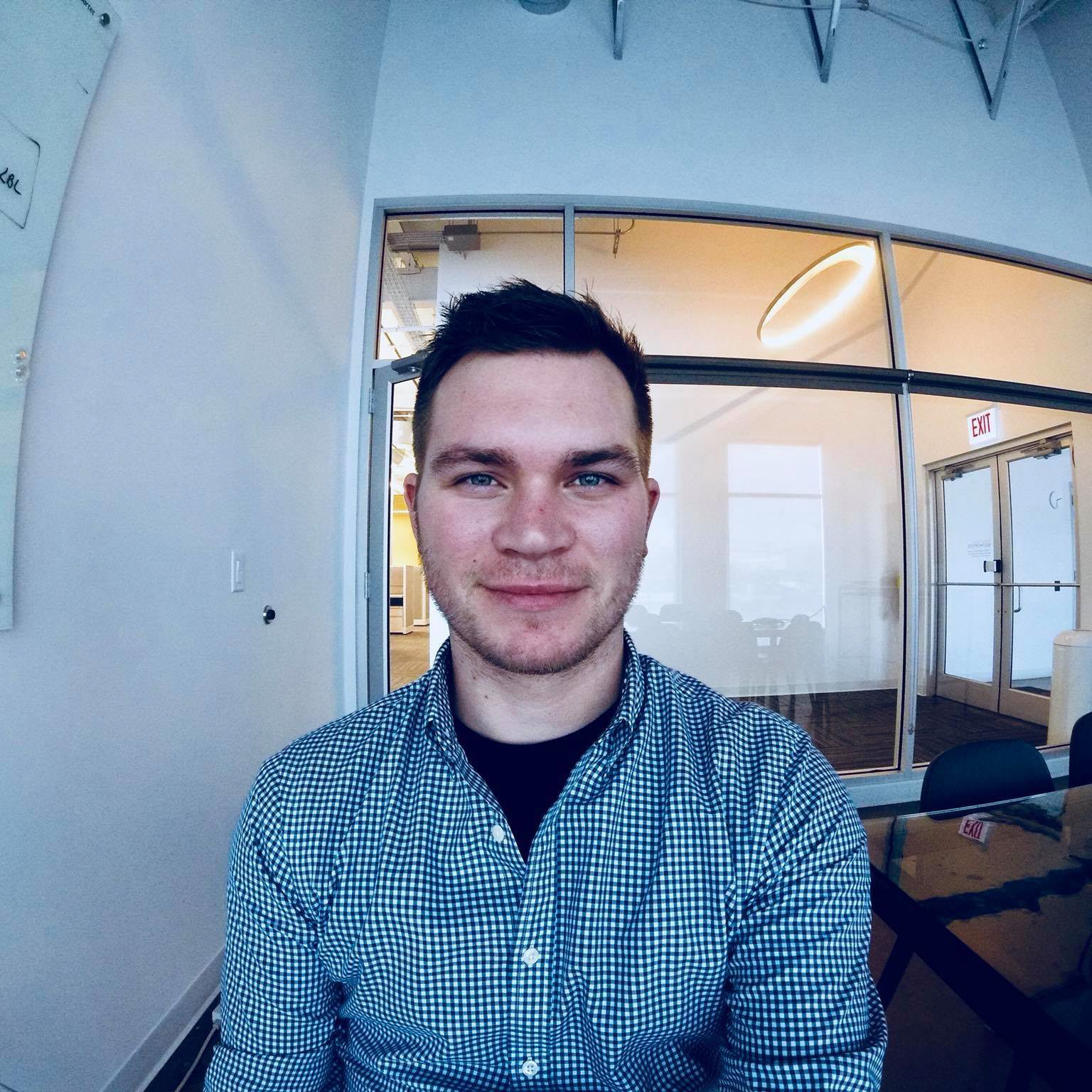 Over the past 12 years, I have designed, strategized, art directed, and managed print & digital production in the Chicagoland area. I studied Communication Design at Harrington College of Design and focused on Branding & Web Development. I've had the opportunity and pleasure of collaborating with many design professionals in multiple disciplines in both corporate and agency settings. I have worked with a wide variety of clients and enjoy the experience with each and every one. 

–Thank you for visiting, I hope you enjoy what you see.
EXPERIENCE
Senior Designer
 | Abbott Laboratories | Abbott Park, IL | June 2019 - Present 
+
Contractor through Creative Circle, supporting corporate marketing efforts. Designing: event signage and graphics, customer journeys through event space, environmental signage for corporate offices, trade show signage, and supporting Abbott's Life Changing Tech campaign style.
Senior Designer
 | Medline Industries, Inc. | Northfield, IL | March 2019 - June 2019 
+
Contractor through Mondo, playing an active role in strategically exploring, ideating and crafting design solutions from conception to production; following creative briefs to a tee; acting as a steward of the brand, embracing the look, feel and strategies in place; and helping coordinate photoshoots, illustration development and vendor/printer communications.
Design Contractor
 | Creative Circle | Chicagoland Area | January 2019 - March 2019 
Core Spaces
+
Aided in the development of a sub-brand identity while building out brand guidelines that included: personality, typography, iconography and photography
+
Designed print & digital sales collateral with large amounts of content while helping to write content and moderate comments
+
Designed website layouts and wireframes while collaborating with external teams for implementation 
Creative Powers
+
 Maintained promotional banners for the Grand Food Center's website that coincided with weekly email promotions through Constant Contact
+
 Designed campaign and promotional material for several marketing channels including: social media, email, direct mail and in-store signage
Graphic Designer
 | OTHERWISE, Inc | Chicago, IL | May 2018 - December 2018
+
 Responsible for implementing digital, social, and product strategies to increase marketing effectiveness for luxury real estate clientele
+
 Created final design deliverables through appropriately detailed design specifications including: website wireframes, identity storyboards, high and low fidelity mockups, and prototypes
+
 Integrated digital and online initiatives into campaigns and marketing efforts
+
 Developed strategic logo marks and brand identities that included brand voice and personality
Marketing Graphic Designer
 | Generation Brands | Skokie, IL | April 2017 - May 2018
+
 Responsible for creating and maintaining deliverables for ELEMENT by Tech Lighting and aided marketing department teammates with designing assets for Tech Lighting, Feiss, LBL and Ambiance lighting brands
+
 Designed the 2018 ELEMENT by Tech Lighting catalog while collaborating with the product and engineering departments; audited technical information and developed a strong understanding of product specifications
+
 Designed webpage mockups using Photoshop CC, then developed frontend of website using HTML and CSS and delivered to web development team for final server assembly
+
 Conceptualized and assisted with wayfinding signage for state-of-the-art lighting gallery space
Graphic Designer
 (contract) | The Field Museum | Chicago, IL | February 2017 - March 2017
+
 Collaborated with teams to design exhibition signage, way-finding signage, button badges, reception posters, volunteer give-away bags, and educational learning plans for K-12 teachers and students
+
 Collaborated with a print vendor to prepare files for small and large print
+
 Worked with multiple departments and copywriters for preparing and fine-tuning an exhibition proposal document for both digital and print application; prepared graphics, photos, renderings, content, etc.
Project Manager
| Ella's Bubbles, LLC | Chicago, IL | January 2016 - December 2016
Website Design & Maintenance (wordpress, magento, responsive)
+
Graphics, banners, sliders, images, buttons, layout
+
 Organization & structure
+
 Update downloadable product documents & images
+
 Frontend development (HTML, CSS)
Online Marketing, E-Commerce & SEO
+
 Development of online marketing & campaign strategies
+
 Supervision of Google AdWords & social media blogging
+
 E-blast campaign design
+
 Creative content development in support of business development
Product Development & Administration
+
 Acquire white-label products from manufactures 
+
 Development of SKU's, price sheets, product descriptions, specifications, manuals
Sales & Customer Service
+
 Sales generation & growth
+
 Answer phone & email product questions
+
 Respond to customer leads
+
 Customer and dealer support
Account Manager
| One Chicago, Inc | Des Plaines, IL | August 2015 - November 2015
+
 Client account negotiation
+
 New client acquisition through direct marketing
+
 Client retention & relationship-building
+
 Leadership, coaching & training of others
Communication Designer
| Creative Go-Round | Chicago, IL | January 2011 - July 2013
+
 Assisted & consulted with non-profit organizations to revitalize their identity and strategy needs
+
 Delivered targeted materials including logos, stationery, brand guidelines, packaging, brochures, postcards, newsletters, catalogs, advertisements, etc.
+
 Managed multiple simultaneous clients, projects, & budgets
+
 Coordinated with & prepared files for print vendors
FREELANCE
Web Designer
 | Lang Dental Manufacturing Co. | Remote | June 2016 - Present
+
 Performed research on consumer demographics and successful competitor websites and advertisements
+
 Collaborated then designed a sitemap and wireframe
+
 Created and designed website icons, graphics, artwork, images and call-to-actions
+
 Developed website-wide design mockups, then sent to developer for web implementation

Designer & Consultant
| creative will | United States | October 2011 - Present
+
 Assisting new & returning clients with identity & campaign needs
+
 Delivering targeted materials including logos, graphics, stationery, brand guidelines, catalogs, advertisements, etc.
+
 Design, develop & maintain multiple websites for clients
+
 Manage multiple simultaneous clients, projects, and budgets

Designer & Consultant
| Creative Kids Corner | Chicago, IL | December 2011 - May 2015
+
 Conceptualized, restructured & designed brand identity
+
 Developed targeted materials including logos, stationery, brand guidelines, brochures, advertisements, etc.
+
 Created & translated subject matter into graphics for promotional materials & social media blogging
+
 Designed & maintained website
+
 Prepared & maintained print files for press & production
+
 2012 American Graphic Design Award winner for Identity Design
PROJECTS
Graphic Designer
| Gerber Collision & Glass | Chicago, IL | May 2012 - August 2012
+
 Collaborated with a team of Interior Designers in conjunction with Jones Lang LaSalle to develop a Gerber Design Program prototype that could be implemented into existing facilities nationwide
+
 Objectives: Assist with the development of a design concept, customer journey, & create a communication strategy
+
 Primary responsibilities included designing verbal and visual themes & graphic treatments for brand featured walls, product displays, campaign promotion banners, window displays, brand stationery, & other promotional materials
EDUCATION
Harrington College of Design
| Communication Design | Chicago, IL | January 2010 - May 2015
Madison Area Technical College
 | Agriculture Technology | Madison, WI | August 2007 - June 2008
North Boone High School
 | General Education | Poplar Grove, IL | August 2003 - May 2007
DESIGN COMPETENCE
• • 

• 
• • • • • • •
  Advertising
• • • • • • • • • •
 Branding
• • •
• • • • • • •
   Environmental
• 
• • • • • • • • •
   Grid & Layout
• •
• • • • • • • •
   HTML / CSS
• • •
• • • • • • •
   Illustration
• • • •
• • • • • •
   Image Editing
• • • • •
• • • • •
 Motion Graphics
• • •
• • • • • • •
   Package Design
• •
• • • • • • • •
   Photography
• • •
• • • • • • •
   Wayfinding
• • • • • • • • • •
   Typography
• • • • • • • • • •
   UX Design
• 

•
 • • • • • • • •
 Web Design
TECHNICAL PROFICIENCY
Software
Mac OS X 
+
 Windows 10 
+
 Coda 2 
+
 Sketch Up 
+
 Microsoft Office 
+
 Illustrator CC 
+
 Photoshop CC 
+
 InDesign CC 
+
 After Effects CC 
+
 Flash CC 
+
 Acrobat Pro DC
Web Applications
Wordpress
+
Magento
+
Shopify
+
Google Apps for Work
+
Constant Contact
+
Mailchimp
+
Basecamp
+
Dropbox
+
ownCloud
+
Bootstrap
+
cPanel
+
Hootsuite
+
Facebook Ads Manager